As we welcome the new year we all have a lot to be thankful for. One thing I am incredibly thankful for is the continued love and support from the Bozeman community. I am beyond grateful for your encouragement, referrals, advice, and of course, your business.
This support continued in the form of votes. Every year Bozeman Magazine holds their Readers Choice Poll where voters can voice their opinion on their favorite businesses in the community. Over 23,000 votes were cast and I am incredibly honored to have been voted Bozeman's Favorite Real Estate Agent for 2018.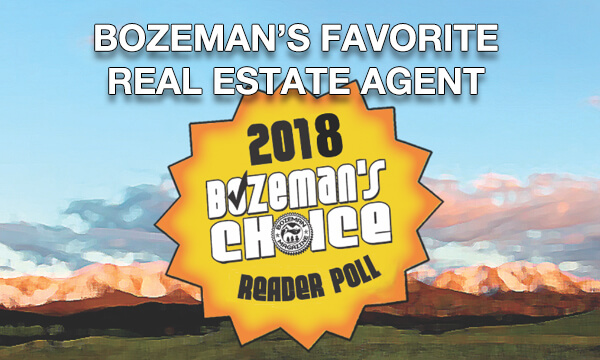 Early in my real estate career, I made a commitment to bring an uncommon level of professionalism and integrity to the industry. People that choose me as their REALTOR® will receive not just an agent, but a partner in the buying and selling process. I customize my service to your unique needs and go the extra mile to help you beyond the closing date. I believe this honor of being voted Bozeman's Favorite Real Estate Agent is a reflection of this commitment.
Thank you to everybody that voted! I am so grateful and humbled to have earned your trust. I know that in order to hold this honor year after year I will need to push harder and continue to place my clients needs before my own.